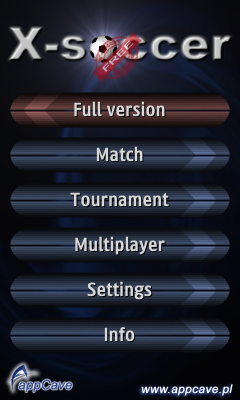 Developers have made X-Soccer game absolutely free for download, but the game is limited and to get the full version will have to spend money. The Game is simple - by building a line trajectory, it is necessary to score. Players make a move in turn and making the appropriate move, it can not be undone, so the game forces you how to think, for that would beat the opponent. In addition to playing with the computer, X-Soccer supports multiplets technology Bluetooth.
Link to SamsungApps
The full version includes:

- saving the current state of each match. The player can stop the match at any time and resume later from any point, both in single matches and tournaments!
- the ability to play against any person using a Bluetooth connection
- a choice of a timed game or a game with a limited number of goals
- the ability to manage the size of a stadium where the match is going to be played

The full version will also enable you to become the tournament master by fighting for a group promotion or advancing through the cup phases right to the final...

Apart from the sheer satisfaction, the championship won in the tournament gives you a unique collection of stars envied by everyone, who faced a real, top-class competition at least once in their lives...