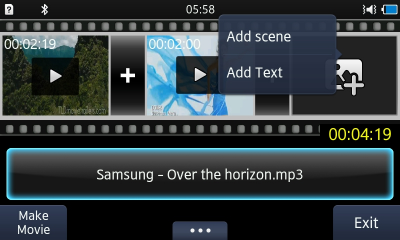 An application
Movie Studio
that helps you to to create movie from your videos, images, text and audio has been released on
Samsung Apps.
According to its description you can:
- Import videos and images as scenes into the storyboard
- Apply effects like sepia, black and white, blur etc. on the scenes
- Apply transitions like Checkerboard, Circle, Dissolve etc. between scenes
- Add caption on the scenes
- Add text as a scene for introduction, credits etc.
- Add background audio
- Export the storyboard into a movie in various resolution settings and 3gp format